Career Exploration
---
Enroll in this self-paced career exploration class!
Let us help you explore majors and careers, show you how to enhance your skills, teach you how to engage in new opportunities, and challenge you to excel as you move forward through Career Planning.
This self-paced course provides students with the basic information about the targeted industry and sectors they are focused on for their career; including essential facts, key institutions, history, career pathways and trends. This course provides students with the basic research and networking skills to become well-informed job seekers so they can effectively prepare for their career and become employed.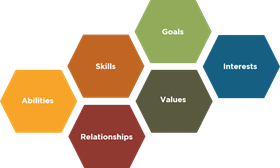 Topics Include
Explore careers:
I need a career. Where do I start…?
Take free career assessments:
It takes time to figure out who you are, and what academic and career pursuits fit your personality, interests, values and skills. This self-paced course provides self-assessment tools to get you started like WLAC Career Assessment.
Learn what careers are associated with your major:
Browse California Community Colleges Careers
Learn about WLAC and how to apply and become a student
Apply for FAFSA
Student portal set-up
Join a student support program and more
Understand how to select classes based on your major
Prepare for your Career
Activate your College Central Network (CCN) account
Click on the Canvas button below to learn more about enrolling in this self-placed course!

After completing the class
---
Meet with a Counselor
Clarify your academic goal and choose your major
The Counseling Department at West Los Angeles College assists students in making decisions regarding educational, career, and personal goals. Counseling is available for educational, transfer and career exploration. These services are provided by professional counselors through individual counseling, workshops and referrals to resources on and off campus.
An academic counseling session begins with educational goal-setting, exploring education options and opportunities, evaluating the student's educational background, and providing the student with clear, concise, up-to-date educational information.
You must make an appointment to meet with a counselor
A counseling session will assist individuals in selecting appropriate programs of study relative to their chosen objectives. Individual student/counselor conferences are available by appointment. Counseling is available on a walk-in basis during registration time only.