Teacher Pathways Program
The Teacher Pathways Program (TPP) is designed to provide students with the support and preparation to successfully pursue a career in the teaching field! The goal of this program is to capture any and every student who may be interested in becoming a teacher. Another fundamental goal of the program is to increase the number of underrepresented students and specialized teachers, (i.e. STEM teachers) in Los Angeles K12 schools...see other Child Development Department programs.
Join one of our Zoom info sessions (every Tuesday and Thursday) to learn about program benefits, receive clarification on eligibility, and obtain assistance with the next steps.
Tuesdays and Thursdays
Time: 11:00am - 11:30am
Attend Orientation
TPP  is a comprehensive academic transition program designed to provide additional support to students interested in transferring to a four-year university to obtain their bachelor's degree and a K-12 teaching credential.
TPP Benefits include:
Textbooks loans
Laptop loans
Counseling
Priority registration
Online Support Services
Education Career Advisement
Transfer Support
Mentoring
Teacher credential exam preparation (CBEST, CSET)
Students qualify for TPP by:
Be enrolled in at least one course at West LA College
Be interested in becoming a K-12 teacher
Be interested in transferring to a four-year university
Commit to meeting at least once a semester with the TPP advisor
Ready to sign up now? Complete our application and we will follow up with you about next steps:
Enroll today in the free, self paced, online canvas shell of resources for aspiring K12 teachers:
Teacher Pathways Upcoming Events
Are you already a K12 teacher interested in meeting the Transitional Kindergarten (TK) requirements? We can help! Attend an orientation and learn about how you can also be supported by the TPP program.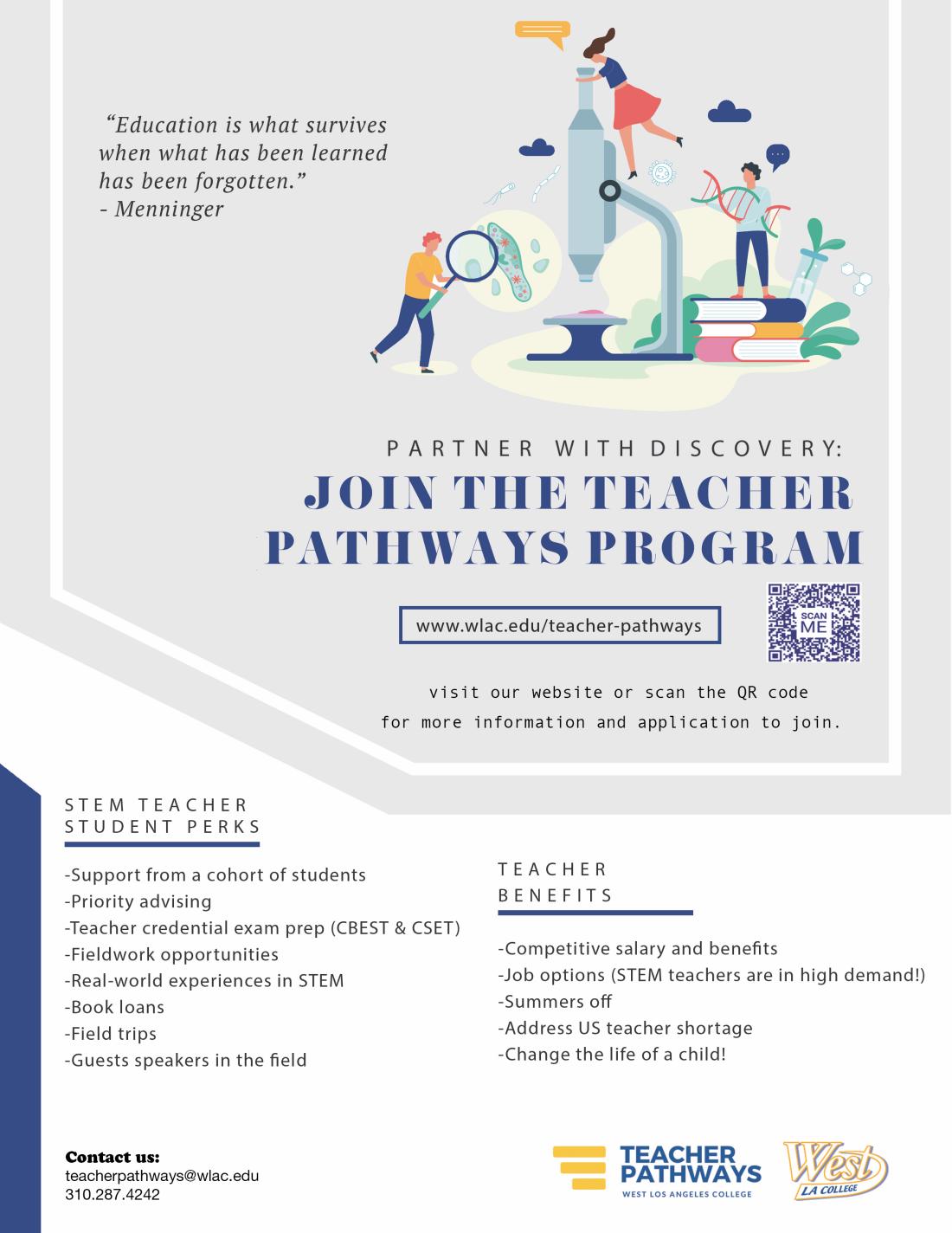 Contact Us To Learn More!
Coordinators
Steven Carter
carters@wlac.edu, please contact me for assistance with applying and answering technical questions about the application process and the program.
Marini Smith, Ed.D.
smithmh@wlac.edu, please contact me to learn more about the benefits of becoming a teacher and why a program like this can help you achieve your goals.
Jeanene Ames, Ed.D.
amesjl@wlac.edu, please contact me if you are interested in learning about our success rates or data related to the program.
Project Dean
Tiffany Miller
millerts@wlac.edu, please contact me for administrative questions.
For all other questions, please contact: teacherpathways@wlac.edu | 310.287.4242
This program is funded by a Department of Education Title V grant.