All Day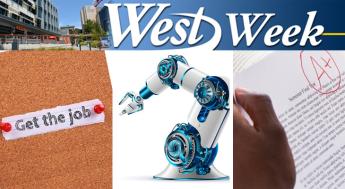 estweek captures the news and event headlines in one easy spot. Check back regularly for the news you should know and/or follow us on Instagram or Facebook
Special Events
ART - A WAY TO HEAL Thur, Mar 23 @ Noon Zoom ID: 867 2056 7848 ...Celebrate Women's History Month & Mental Health in this lunch time talk by Claudia Ramos who created Hola Mijas Bonitas to share her experiences as a native Salvadorian growing up in Los Angeles.
Opportunities
WHAT SHOULD WE CALL IT? The Basic Needs Office (WLAC Food Pantry & Wardrobe) is changing their name. How about Wildcats Warehouse (The Bodega) or maybe Wildcats Cave or something else. Vote here or make a suggestion.
PHOTO CONTEST: Entries due by April 14, 2023 - 8 Winners will receive $150 each. Images should feature campus architecture...read more 
ASO SENATORS WANTED: Build your resume, gain leadership skills, and help create a great campus environment - you even get a small stipend $$. Application due March 30
Class Success
RESEARCH PAPER HOW TOs: Wed, Mar 22 at 1:00 pm...Use ONESEARCH to find relevant information in books, journal articles, and more from the Library Collection...In-Person HRLC (Library), Rm 218 or Zoom: 847 8072 5347 Password: 487592
 
8-WEEK CLASSES STARTING APR 10 
Introduction to Robotics (MIT 220)....................... is an introductory course in robotics emphasizing hands-on experience to build a basic functional robot. Students learn about electric motors, servos, sensors, switches, actuators and their application in a robot.
 
Career & Money
University Transfer
---
...Save the Date
Mar 28 at 9:00 am: LACCD Campuses Security Summit...details here
Mar 30 at 3:30 pm: UNDERSTANDING YOUR PAYCHECK...register for Zoom
Apr 12 10:00 am - 3:00 pm: In-Person CAREER FAIR on Wildcats Walkway...sign-up
Research Paper How Tos: Mon, Apr 17 & Thurs, May 18 at 1:00 pm...HOW TO CITE MLA style...In-Person HRLC (Library), Rm 218 or Zoom: 847 8072 5347 Password: 487592
Your Goal is Transfer? Get critical information so that you take all of the right classes and make the right steps. Sign up for one of the in-person or online Transfer 101 sessions: Apr 28, May 2, May 5
Research Paper How Tos: Tues, May 2 at 1:00 pm...HOW TO CITE APA style...In-Person HRLC (Library), Rm 218 or Zoom: 847 8072 5347 Password: 487592
Research Paper How Tos: Mon, May 22 at 3:00 pm... DATABASE SEARCHING find credible sources using specific databases such as ProQuest, JSTOR, EBSCO, and more...In-Person HRLC (Library), Rm 218 or Zoom: 847 8072 5347 Password: 487592