West Los Angeles College (West) is a fully accredited 2-year California Community College where students can complete an Associate for Transfer degree, the first half of a Bachelor's degree, or a Career Certificate of Achievement for significantly less than they would pay at a university or private career college. West provides an intimate college experience with knowledgeable, experienced professors; caring support staff; a broad range of academic majors; and a lauded online degree program.
Thanks to West's smaller size and less students per classroom, each student can have more access to their professors and support services including tutoring, library assistance, university transfer counseling, university field trips, mentoring and more.
PART OF PRESTIGIOUS CALIFORNIA PUBLIC COLLEGE SYSTEMS
California has three public college systems: the Community Colleges; the California State Universities; and the University of California campuses. This integrated system of colleges is designed to make it easier for a student to advance transferfrom a community college like West to our associate universities such as UCLA, UC Berkley, UC San Diego, CSUN, Cal State LA, Cal State San Jose, etc. West students enter these universities as 3rd-year students and complete the remaining requirements of the Bachelor's degree.
The advantage to beginning the Bachelor's degree at a community college is the savings in tuition. West's tuition is as much as half the cost of tuition at a 4-year university. Additionally, classes are typically smaller than at universities and they are taught by the professors, not teaching assistants.
California Family of Public Higher Education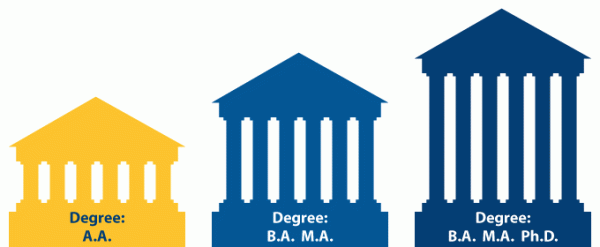 California Community Colleges
(West LA College)
California State Universities
(CSUN, CSULA, etc.)
University of California
(UCLA, UC Berkeley, etc.)

SIGNIFICANT COST SAVINGS
West has among the lowest tuition available for students in the United States. Students can complete the first half of a Bachelor's degree at West at a great savings over the cost of a university. Then, the student can advance transfer to any major 4-year university to complete the Bachelor's degree.
West also offers Career Certificate of Achievement and Skill Certificate programs.
Approximate Student Tuition for 1 Year of Online Tuition
GREAT LOCATION WITH DIVERSE STUDENT BODY
West occupies 70 park-like acres with views overlooking Culver City, Playa Del Rey, Marina Del Rey and West Los Angeles. It sits on the boarder of Los Angeles and Culver City which is known for its hip restaurants, galleries, and tv/film production studios and the new "Silicon Beach" area, home to major offices for Facebook, YouTube, Yahoo and Google. The area's population, as well as West's student body of 11,000, is highly diverse.
West is located minutes from Playa Del Rey beach,major shopping malls and movie theaters. By being close to several major freeways, it is an easy commute from the college to DisneylandMagic Mountain,UCLA,USC, theLAX airport,Downtown Los Angeles, sports venues and many other notable attractions.
Associate Degree leading to a Bachelor's Degree – earn a college degree online without the expense of leaving your home state.
Online students may also choose from a wide variety of degrees, certificates of achievement, and individual classes.
Online College
Office Hours
Mondays to Thursdays: 9:00AM - 5:00PM
Fridays: 9:00AM - 5:00PM (Remote)
Saturdays to Sundays: Closed
(PACIFIC STANDARD TIME)