Job & Career Fair
Thursday, May 18, 2023
11:30 am - 2:00 pm
Enrollment
Job & Career Fair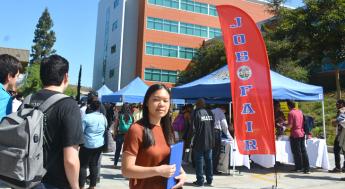 Music, Food, Giveaways
Don't miss your chance to connect with:
Employers that have summer job/internship opportunities. Reps from on-campus and off-campus resources and learn how to qualify and apply.
ASO & Mental Health who will bring "Paws" in your day, for you to interact with dogs and cats to pet and help you have a good day!
OTHER EVENTS
Fine Arts 1st Floor
Los Angeles, CA 90230
United States