BHM Events - "Nope" & Guest Speakers
Monday, February 27, 2023
11:00 am
Public Event
BHM Events - "Nope" & Guest Speakers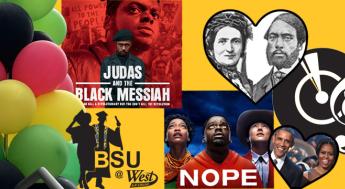 CHECK BACK FOR CAMPUS LOCATIONS AND TIMES
INTERESTING POSTS AND ADL. INFO throughout the month on IG (@WestLACollege) and FB (@WestLosAngelesCollege)
MON, FEB 27: Film - "Nope"
FILM SCREENING 11:10 AM in MSA 003: Enjoy a free screening of "Nope", written and co-produced by Jordan Peele FUN FACT: several students from the  West LA College film/TV production crafts program worked on this film.
SNACKS SERVED! ...and provided by your Associated Student Organization (ASO)
MON, FEB 27: Guest Speakers
10:00 - 11:30 in GC 160 or via Zoom: 842 0011 7159
TYSON AMIR, AUTHOR
Tyson Amir is an author, musician, educator, community organizer, and freedom fighter born and raised in the San Francisco Bay Area. Tyson is the author of the books Black Boy Poems and the Black Boy Poems Curriculum. Tyson has dedicated hi s life and work to fighting for the freedom and liberation of hi s people and all oppressed people on this planet.
DR. TOYIA JACKSON, CEO
For over ten years, Dr. Jackson has successfully coached clients throughout the United States on strategy for entrepreneurship. Dr. Jackson is the CEO of Iconic Choice advisors centering on high level accountability for C-Level Executives & Investors and corporate transparency training.
.
.
JUNE 1, 2023: BLACK GRADUATION
Save the date for the 9-campus Black Graduation Ceremony sponsored by LACCD's African American Outreach Initiative (AAOI). Watch for announcements later this Spring.