Banned Book - Read Out
Tuesday, October 3, 2023
Location: 9000 Overland Ave., Culver City, CA 90230
12:00 pm - 1:00 pm
Enrollment
Banned Book - Read Out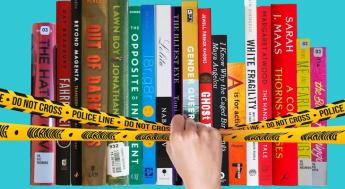 You are invited to read aloud your favorite challenged book...
Date: Tuesday, Oct. 2, 2023
Time: 12pm-1pm
Place: In front of MS-B across from the Library.
During Banned Books Week, we celebrate our Constitutionally-guaranteed freedom to read!  We come together to read from challenged books and we invite you to join us in a Banned Books Week Read-out! You're welcome to read from a selection of challenged books or from a book of your choice...read more 
Presented by faculty from Language Arts and from the West Los Angeles College Library
FYI - Most Banned Books of 2022-2023
PEN America counted school book bans in the 2022-2023 school year, and found 3,362 book bans affecting 1,557 unique titles, with more than 40% of the bans occurring in Florida
Tricks, by Ellen Hopkins, 33 bans..."Five troubled teenagers fall into prostitution as they search for freedom, safety, community, family, and love in this No. 1 New York Times bestselling novel from Ellen Hopkins."
The Bluest Eye, by Toni Morrison, 29 bans..."From the acclaimed Nobel Prize winner—a powerful examination of our obsession with beauty and conformity that asks questions about race, class, and gender with characteristic subtly and grace."
Looking for Alaska, by John Green, 27 bans..."Looking for Alaska brilliantly chronicles the indelible impact one life can have on another. A modern classic, this stunning debut marked bestselling author John Green's arrival as a groundbreaking new voice in contemporary fiction."
A Court of Mist and Fury, by Sarah J. Maas, 27 bans..."The seductive and stunning No. 1 New York Times bestselling sequel to Sarah J. Maas's spellbinding A Court of Thorns and Roses."
Gender Queer: A Memoir, by Maia Kobabe, 26 bans..."Started as a way to explain to eir family what it means to be nonbinary and asexual, Gender Queer is more than a personal story: it is a useful and touching guide on gender identity–what it means and how to think about it–for advocates, friends, and humans everywhere."
The Perks of Being a Wallflower, by Stephen Chbosky, 25 bans..."Read the cult-favorite coming-of-age story that takes a sometimes heartbreaking, often hysterical, and always honest look at high school in all its glory."
Thirteen Reasons Why, by Jay Asher, 24 bans.."You can't stop the future. You can't rewind the past. The only way to learn the secret . . . is to press play."
 
Sold, by Patricia McCormick, 24 bans..."The powerful, poignant, bestselling National Book Award Finalist gives voice to a young girl robbed of her childhood yet determined to find the strength to triumph."
Crank (Crank Series), by Ellen Hopkins, 23 bans..."Kristina Snow is the perfect daughter: gifted high school junior, quiet, never any trouble. Then, Kristina meets the monster: crank. And what begins as a wild, ecstatic ride turns into a struggle through hell for her mind, her soul–her life."
Identical, by Ellen Hopkins, 22 bans..."Kaeleigh and Raeanne are 16-year-old identical twins, the daughters of a district court judge father and politician mother running for US Congress. Everything on the surface seems fine, but underneath run very deep and damaging secrets."
Empire of Storms, by Sarah J. Maas...Kingdoms collide in this fifth book in the No. 1 New York Times bestselling Throne of Glass series.