Climate Change Center Events
---
Climate Action Palooza: 2023 Oct 24 - 26
DAY #1: Tues, Oct 24 
Graduation Lawn | 10:00 am – 11:30 am
Opening Ceremony, Land Acknowledgement, Information Booths & Fun
Fine Arts Auditorium | 11:45 am – 1:00 pm
Keynote Speaker Wanjiku "Wawa" Gatheru & Panel
discusses Climate Justice & Youth Activism
Wawa is a Kenyan-American climate storyteller passionate about bringing empathetic and accessible climate communication to the mainstream.
Lunch on Wildcat Walkway | 1:00 pm – 2:00 pm
​​Graduation Lawn | 2:00 pm – 4:00 pm
Community Building Activities, Workshops, Information Booth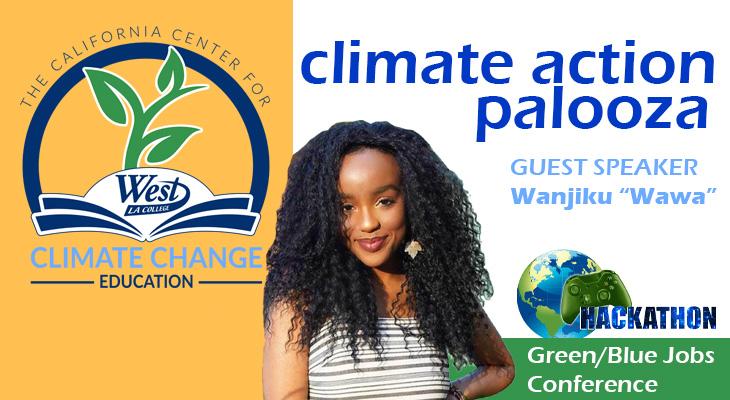 DAY #2: Wed, Oct 25 
FA Auditorium  | 9:00 am – 11:30 am
9:00 - 10:00 am   Registration

10:00 - 10:10 am   President Limbaugh welcoming notes

10:10 - 10:20 am   Jo Tavares on the Urgency of Climate Change

10:20 - 10:35 am   Jennyfer Vasquez on Sustainability

10:35 - 11:05 am    Dana Claire YA Author talks about World Building

11:05 - 11:20 am    Eric Elder on gaming development process

11:20 - 11:30 am    Katherine and Katy talk about Creative Process/ Hacking Rules
Working Lunch in Groups |  11:30apm – 12:05 pm
MSA Building  | 12:05 pm – 2:00 pm
HACKING SESSIONS
Fine Arts Auditorium  |  2:00 pm – 4:00 pm
2:15 pm  Closing Ceremony and acknowledgements for High School groups

2:35 pm  Highschool hackers head to their buses

3:30 - 4:00 pm   College Hackers Group Presentations and Closing Ceremony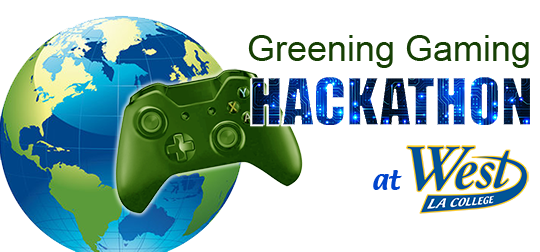 DAY #3: Thur, Oct 26 
FA Auditorium & Courtyard  |  8:30 am – 12:30 pm
8:30 a.m. - 9 a.m.  Registration and Breakfast
9:00 a.m. - 9:30 a.m.  Opening Remarks
Dr. James Limbaugh, President, West Los Angeles College
Stephen Chung, President & CEO of the LA County Economic Development Corporation (LAECD) and World Trade Center Los Angeles (WTCLA)
Dr. Francisco Rodriguez, Chancellor, Los Angeles Community College District
Asm. Isaac Bryan, Majority Leader, California State Assembly
 
9:30 a.m. - 10:20 a.m. ......Keynote Speaker, Dr. Robert Fofrich on "Why do we need Green Jobs?"
Dr. Fofrich discusses Decarbonizing Economies: Why do we need green and blue jobs?
Dr. Robert Fofrich is an Earth System Scientist and a UC President's Postdoctoral Fellow at UCLA's Institute of the Environment and Sustainability and is also an alum of West LA College. His research centers on the intersection of global society and environmental change, primarily focusing on attribution, mitigation, and adaptation. He obtained his bachelor's and Ph.D. in Earth System Science from the University of California, Irvine, specializing in the impact of energy systems on climate change mitigation and the agricultural consequences of surpassing international climate targets. During his undergraduate at West and UCI, Robert held positions at NASA's Jet Propulsion Laboratory Center for Climate Sciences and the Center for Environmental Biology at UC Irvine, where he researched wildfires and ecological restoration, respectively.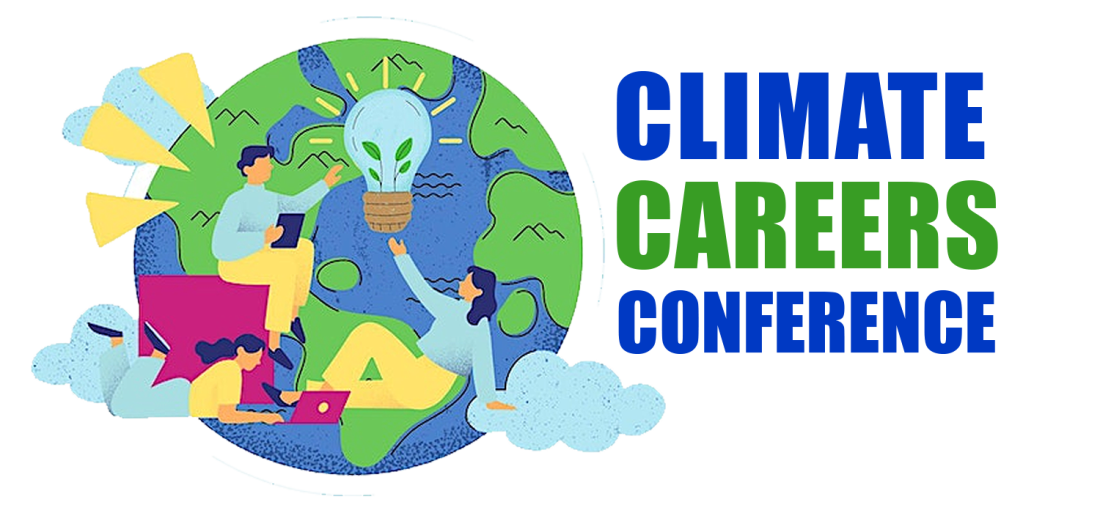 10:30 a.m. - 11:15 a.m. ......Panel: Trends and Projections
11:15 a.m. - 12 p.m. ............Panel: A Just Transition
12 p.m. - 12:30 p.m. ............Unveiling of the Climate Internships Database
Lunch   |   12:30 pm - 2:00 pm
Lunch, Exhibits, and Booths
MSA Building | Breakout Sessions | 2:00 – 3:00 pm
0 FLOOR
MSA 003: The Blue Economy Facilitated by Meredith Brooks, Senior Programs and Grants Manager, AltaSea.
MSA 005: Food Science and Alternative Proteins. Co-facilitated by Silas Crocker, Food and Sustainability Expert, and Nathan Ahlgrim, Ph.D., Academic Community Manager, Good Food Institute.
1ST FLOOR
MSA 102: Decarbonizing the Transportation Sector. Facilitated by Jess Guerra, Director of the Transportation Workforce Institute at LA Trade Technical College
MSA 104: Assessing Capacity for DEIA & Community Benefit Requirements in Climate Funding. Facilitated by Brett Zeuner Program Manager, Community Impact - Foundation for California Community Colleges.
MSA 105: Environmentally and Socially Responsible Buildings. Facilitated by Robert Zardeneta, Director of Workforce USGBC-LA.
MSA 109: Increasing Energy Efficiency with HVACs and Heat Pumps. Facilitated by Sergio Couder, Technical Instructor at Mitsubishi Electric Heating & Cooling.
2ND FLOOR
MSA 211: All Future Careers are Climate Careers: Students Success Means Teaching Climate Literacy Across Disciplines. Facilitated by Prof. George Leddy, Sustainable Environment Institute (SEI).

MSA 203: Certificates in Sustainability and Climate Action: The Conservation Studies Program at WLAC Example. Facilitated by Emily Cobar and Stacey Vigallon, the Nature Nexus Institute/ WLAC instructors.
3RD FLOOR
MSA 309: Natural Resources Management and Policy. Facilitated by Jenyffer Vasquez, Water Policy & Resources Analyst II West Basin Municipal Water District.