CO SCI: Microsoft Networking
---
PROGRAM OVERVIEW
Currently the Microsoft training at West is based on the Microsoft Certified Solutions Associate, commonly referred to as the MCSA certification. The MCSA certification is designed to give students the ability to design and build technology solutions based on Microsoft server technology.
MCSA training consists of a series of three courses (CIS 227, CIS 217, and CIS 218) that provides the skills and knowledge necessary to implement a core Windows Server 2016 infrastructure in an existing enterprise environment.
The three courses collectively cover implementing, managing, maintaining and provisioning services and infrastructure in a Windows Server 2016 environment.
Depending on your technical background you may be eligible to start taking your MCSA courses immediately. If not, you may have to consider taking background courses first. There are electives courses, such as, Microsoft SQL Server and Microsoft Exchange Server you may wish to take after completing the MCSA courses.
Students earn their MCSA certification by successfully completing three Microsoft certification exams. The three Microsoft exams are denoted as; 70-410 (Installing and Configuring Windows Server 2016), 70-411 (Administering Windows Server 2016), and 70-412 (Configuring Advanced Windows Server 2016 Services). Each course at West maps directly to a certification exam and students are expected to take each course in the recommended sequence.
To assure success for those students pursuing their MCSA, West provides a number of resources to help students meet their training goals including; flexible class schedules, software discounts, multimedia training tools, access to Pluralsight video libraries, and remote 24/7 access to server environments
DEGREE & CERTIFICATE PROGRAMS
ASSOCIATE OF ARTS
COMPUTER NETWORK & SECURITY MANAGEMENT (Major Code 0708.00)
30 General Education Units + 30 Units in Major
View Road Map
ASSOCIATE OF SCIENCE
COMPUTER NETWORK & SECURITY MANAGEMENT (Major Code 0708.00)
18 General Education Units + 12 Units of CSIT Courses + 30 Units in Major
View Road Map
CERTIFICATE OF ACHIEVEMENT
COMPUTER NETWORK & SECURITY MANAGEMENT (Major Code 0708)
21 Units in Major + 9 Units of Electives
View Road Map
CERTIFICATE OF ACHIEVEMENT
COMPUTER NETWORK MANAGEMENT (Major Code 0708.10 - Unique Program Code 16585)
17 Units in Major
View Road Map
CERTIFICATE OF ACHIEVEMENT
COMPUTER NETWORK & INFORMATION SECURITY (Major Code 0708.01 - Unique Program Code 19585)
16 Units in Major
View Road Map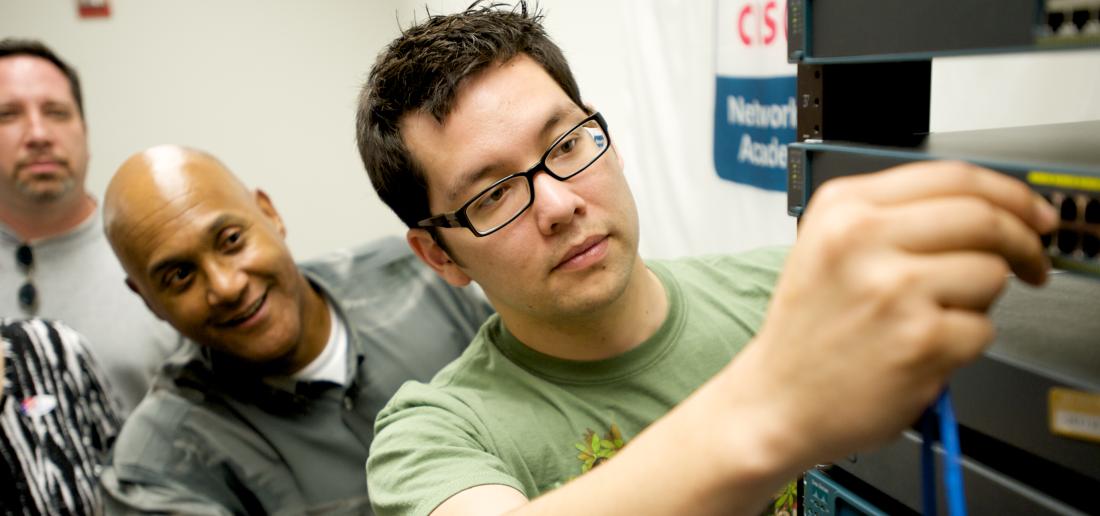 The first and only Computer Network Security Degree Program in LACCD
State Approved Transcripted Certificate of Achievement in Computer Network Management
State Approved Transcripted Certificate of Achievement in Network & Information System Security