Registration & Cash For College Event
Saturday, January 27, 2024
Location: 9000 Overland Ave., Culver City, CA 90230
10:00 am - 2:00 pm
Enrollment
Registration & Cash For College Event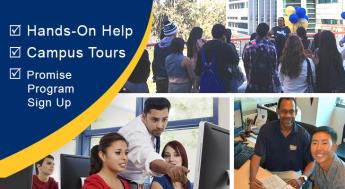 9:00 am - 2:00 pm | Registration assistance:
Hands-On Help Logging On to the Student Portal
Providing Your Student ID Number
Password Reset
Guidance on Class Selection
Assistance with Financial Aid Forms
 
10:00 am - 2:30 pm | Cash for College L.A. Cash for College's Super Saturday workshops provide FREE, one-on-one assistance to students completing the Free Application for Federal Student Aid (FAFSA), California Dream Act Application (for eligible AB540 students) or Chafee Grant application for foster youth. These forms must be completed by April 2 to receive priority consideration for state and federal financial aid, including grants, scholarships, loans and work-study opportunities.
Stay Connected...Sign-up here for up-to-date on available resources and scholarship opportunities, discover upcoming and on-demand workshops, and receive reminders for financial aid deadlines.