Indigenous People's Month: Guest Speaker
Tuesday, November 14, 2023
Location: 9000 Overland Ave., Culver City, CA 90230
12:00 pm - 2:00 pm
Public Event
Indigenous People's Month: Guest Speaker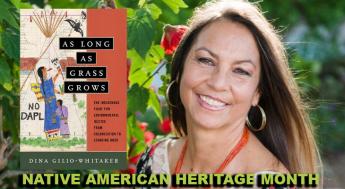 Environmental Justice & Climate Change:
A Changing Landscape
with guest speaker Dina Gilio-Whitaker
Fine Arts Theater | Free Parking in adjacent South Parking Structure
Author of As Long as Grass Grows: The Indigenous Fight for Environmental Justice, from Colonization to Standing Rock
Presentation  |  Meet & Greet with Author  |  Free Lunch (until meals run out)
Sponsored by the CA Center for Climate Change Education Center at WLAC 
and the WLAC Transfer Honors Program
ABOUT THE AUTHOR:  Dina Gilio-Whitaker, a member of the Colville Confederated Tribes, is a prominent figure in the field of Indigenous environmental justice. She is a dedicated lecturer, author, and educator, with a deep passion for addressing the complex challenges related to the environment and Indigenous rights. Her work has garnered recognition for its impact on the ongoing fight for environmental justice.