Greening Gaming - Hackathon
Wednesday, October 25, 2023
10:00 am - 4:00 pm
Enrollment
Greening Gaming - Hackathon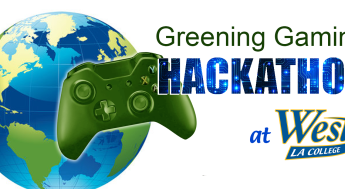 This is the second of a 3-day Climate Action Palooza to empower, inspire, and create excitement about the many ways in which we all can support climate action, the decarbonization of economies, and environmental justice. 
Day 2: 
Greening Gaming Hackathon
Day 1: International Climate Action Day
Day 3: Climate Career Conference
Join the Creativity Lab and the Climate Change Initiative at West in brainstorming unique, creative solutions to making videogames and board games more sustainable and environmentally-conscious. Workshop, plan, and collaborate with a team.
Teams will present their ideas to a panel of judges versed in sustainability, story, and gaming, including Chacko Sonny, Gaming Division at Netflix and award-winning YA author Dana Claire.
Lunch | Celebrity Judges | Prizes! 
For more info. Email BoutryK@WLAC.edu - Dr. Katherine Boutry, Creativity Lab Director
9000 Overland Ave.
Culver City, CA 90230
United States