Approved by The American Bar Association Since 2005
First ABA Approved Paralegal Program in the Los Angeles Community College District
The ABA Approved Paralegal Program at West Los Angeles College offers two options:
Associate Degree (Major Code 1402.00) and
Post Associate Degree Certificate of Achievement (Major Code 1402.00)
Our programs are designed to train future paralegals and legal assistants perform a variety of tasks to support lawyers.
Programs Offered
DEGREE REQUIREMENTS
Information Sessions - Let's Talk!
Learn more about our American Bar Association (ABA)-Approved Paralegal program with instructors who are judges, attorneys and experienced paralegals. Sign-up for a Thursday, 6:00pm Info Session on Zoom. 
REGISTER FOR ZOOM SESSION: Jan 26  |  Feb 16  |  Mar 16  | Apr 20  |  May 18  |  Jun 15  |  Jul 20  |  Aug 17  | Sept 21  |  Oct 19  | Nov 9  |  Dec 14
Competitive Salary & Benefits
The median annual wage for paralegals and legal assistants was $51,740 in May 2019. In California, paralegals on average earn $58,110. The median annual wages for paralegals and legal assistants in the top industries in which they worked were as follows:
| Sector | Salary |
| --- | --- |
| Federal government | $67,080 |
| Finance and insurance | $64,190 |
| Local government, excluding education and hospitals | $51,030 |
| Legal services | 49,630 |
| State government, excluding education and hospitals | $46,820 |
Most paralegals and legal assistants work full time. Some may work more than 40 hours per week in order to meet deadlines.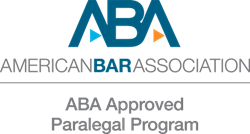 Paralegals Are In Demand
According to the Department of Labor, the demand for paralegals is expected to grow as an increasing population requires additional legal services. Employment of paralegals and legal assistants is projected to grow 10 percent from 2019 to 2029, much faster than the average for all occupations. Formally trained paralegals with strong computer and database management skills should have the best job prospects.
As law firms try to increase the efficiency of legal services and reduce their costs, they are expected to hire more paralegals and legal assistants. In these cases, paralegals and legal assistants can take on a "hybrid" role within the firm, performing not only traditional paralegal duties but also some of the tasks previously assigned to legal secretaries or other legal support workers.
Law firms also are attempting to reduce billing costs as clients push for less expensive legal services. Due to their lower billing rates to clients, paralegals can be a less costly alternative to lawyers, performing a wide variety of tasks once done by entry-level lawyers. This should cause an increase in demand for paralegals and legal assistants.
Although law firms will continue to be the largest employers of paralegals, many large corporations are increasing their in-house legal departments to cut costs. For many companies, the high cost of outside counsel makes it more economical to have an in-house legal department. This will lead to an increase in the demand for legal workers in a variety of settings, such as finance and insurance firms, consulting firms, and healthcare providers.
What is a Paralegal?
A paralegal is a person, qualified by education, training or work experience who is employed or retained by a lawyer, law office, corporation, governmental agency or other entity and who performs specifically delegated substantive legal work for which a lawyer is responsible.
Paralegals may not provide legal services directly to the public except as permitted by law.
Paralegals working in California must comply with the Business and Professions Code § 6450.
Attorneys licensed to practice law supervise Paralegals. Paralegals must be vigilant when working on behalf of clients to avoid the practice of law in violation of California Business and Professions Code §(s) 6125 & 6126 regulating the Unauthorized Practice of law.
This program is not designed for preparation for law school admission. Students should consult catalogs of law schools of their choice or a counselor when planning to attend law school.
Paralegal Duties
Paralegals and legal assistants perform a variety of tasks to support lawyers, including maintaining and organizing files, conducting legal research, preparing and drafting legal documents, investigating facts, analyzing legal precedent, etc….
Paralegals and legal assistants typically do the following:
Investigate and gather the facts of a case
Conduct research on relevant laws, regulations, and legal articles
Organize and maintain documents in paper or electronic filing systems
Gather and arrange evidence and other legal documents for attorney review and case preparation
Write or summarize reports to help lawyers prepare for trials
Draft correspondence and legal documents, such as contracts and mortgages
Get affidavits and other formal statements that may be used as evidence in court
Help lawyers during trials by handling exhibits, taking notes, or reviewing trial transcripts
File exhibits, briefs, appeals and other legal documents with the court or opposing counsel
Call clients, witnesses, lawyers, and outside vendors to schedule interviews, meetings, and depositions
Paralegals and legal assistants help lawyers prepare for hearings, trials, and corporate meetings.
Paralegals use technology and computer software for managing and organizing the increasing amount of documents and data collected during a case. Many paralegals use computer software to catalog documents, and to review documents for specific keywords or subjects. Because of these responsibilities, paralegals must be familiar with electronic database management and be current on the latest software used for electronic discovery. Electronic discovery refers to all electronic materials obtained by the parties during the litigation or investigation. These materials may be emails, data, documents, accounting databases, and websites.
Paralegals' specific duties often vary depending on the area of law in which they work and the size of the law firm.
In small firms, paralegals' duties tend to vary more. In addition to reviewing and organizing documents, paralegals may prepare written reports that help lawyers determine how to handle their cases. If lawyers decide to file lawsuits on behalf of clients, paralegals may help draft documents to be filed with the court.
In large organizations, paralegals may work on a particular phase of a case, rather than handling a case from beginning to end. For example, paralegals may only review legal material for internal use, maintain reference files, conduct research for lawyers, or collect and organize evidence for hearings. After gaining experience, a paralegal may become responsible for more complicated tasks.
Unlike the work of other administrative and legal support staff employed in a law firm, the paralegal's work is often billed to the client.
Paralegals may have frequent interactions with clients and third-party vendors. In addition, experienced paralegals may assume supervisory responsibilities, such as overseeing team projects or delegating work to other paralegals.
Online Paralegal Classes In Compliance with the American Bar Association
Effective January 1, 2020, the ABA Approval Commission of the Standing Committee on Paralegals, has amended the ABA Guidelines for the Approval of Paralegal Education Programs to allow ABA-Approved paralegal programs to be offered online. Both programs may now be completed online in compliance with all ABA Guidelines. All students are required to take at least nine semester credits or the equivalent of legal specialty courses through synchronous instruction.
Paralegal Program Transfer Policies & Procedures for Legal Specialty Courses
Students who have taken legal specialty courses at other institutions may petition to the Paralegal Program Director to have those courses transferred into the ABA Approved Paralegal Program at West Los Angeles College. A legal specialty course is a course that (1) covers substantive law or legal procedures or process; (2) has been developed for paralegals; (3) emphasizes practical paralegal skills; and (4) The instructional methodology must stress understanding and reasoning rather than rote learning of facts. The instructional methodology must include the following: A) Processes to ensure interaction between the faculty member and students and among students; B) Opportunities for students to interact with faculty members and to receive meaningful and prompt feedback regarding their assignments and questions; and C) Practical assignments that develop paralegal job competencies.
Transferability is based on the following: (1) No student may transfer more than nine [9] Paralegal/Legal Specialty course units; (2) Transfer from schools that are not regionally accredited will not be allowed; (3) Courses completed more than six [6] years ago will not be allowed; and (4) The student must have earned a grade of "C" or higher.
Any student seeking transfer credit for any legal specialty course taken at another institution must provide a petition for credit and the following documentation to the Paralegal Program Director and the Director will not approve transfer units without the proper supporting documents being provided by the student: (1) The name and address of the institution; (2) An official transcript showing the course title, date taken, and grade received; (3) The course syllabus or a course description from the institution's course catalog; (4) Practical assignments required in the course; (5) Verification of the instructional mode (i.e. classroom, online, hybrid); and (6) Documentation of whether or not the paralegal program at that institution was ABA-approved at the time the course was completed.
Upon satisfactory review and submission of the required documentation, the Paralegal Program Director in collaboration with Division Chair may approve the requested units to be transferred in. The Paralegal Program Director will consider transferability of the units on a case-by-case basis where those credits have been earned at a program not approved by the ABA or at an ABA-Approved Program with whom we do not have an existing articulation agreement. Strong preference is given to those courses taken from an ABA-Approved paralegal studies program.